Not having your calves in a state of pancake when the elevator breaks down, quickly eliminating this lunchtime delicious lemon meringue tartlet, or even competing with your cousin and her buttock abdominal coach, there are many reasons to exercise at work. As my generosity is only equalled by my modesty, I decided to create a special fitness routine for you.
For this first episode, we're going to play it discreetly and without equipment. In other words, no pumps in the middle of the open space or traction in the toilets. If your goal was to become the sports coach for the entire accounting department, don't worry, another article will be coming soon. But for now, the time has come for simplicity.
Sculpted and durable calves
The first exercise of this "At Work" routine is about a particularly attractive part of the body when it is curved (How I Met Your Mother fans will know what I'm talking about), but often neglected: calves.
At the coffee machine, photocopier or in the hallway during a call with suppliers, there are many contexts in which you can do this exercise. How? It's easy, just put both feet flat and parallel, with your pelvis and shoulders in line, and climb on tiptoe while keeping your balance. Once on tiptoe, hold the contraction for 2 seconds, then return to the initial position with your feet flat. All you have to do is repeat this gesture every time the situation arises, or simply do 4 sets of 20 repetitions whenever you want. You can also do it while using the stairs. Spoiler : it burns.

Little homemade trick: take your laptop bag (filled) in one hand during the series, and change hands with each series. This increases the load on the calves, and helps to work on the balance/abdominal belt. What else?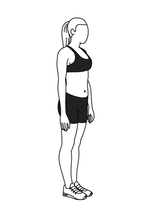 Kevlar abs
The simplest and most discreet way to develop the famous 6-pack is the swiss ball. Why am I talking about Switzerland? It has nothing to deal with our beloved swiss. It is a big soft ball that is often found in sports halls. Just sitting on it will make you work those muscles so capricious.
If you are in a company that makes this tool available to its employees, don't waste time and start using it. However, there is no overzealousness, as it works thanks to the imbalance in which it places its user. Thus, prolonged use can negatively impact your back and psoas. It is therefore more effective to use about 15-20 minutes. By reading your e-mails, for example.
If not, I have particularly effective core training exercises in my boot. Nevertheless, they require a little concentration and will (because it tickles a little). This exercise is done by sitting in your chair, with both hands flat on the seat. The hands come to be placed at the level of the upper thighs, arms stretched. You will then have to contact your abdominal strap, so that you can raise your knees to an angle of about 45° (the feet no longer touching the ground). The contraction must be voluntary and focus on her abs to help her isolate herself and thus her work. If the exercise is a little too simple, do not hesitate to do the same thing by lifting your buttocks off the chair: in balance the abdominal strap is much more stressed.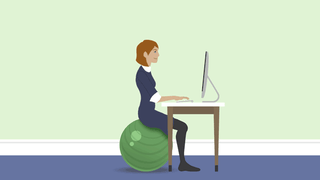 Tonic shoulders and arms
"Beautiful dips on the chair", if this sentence doesn't mean anything to you, don't panic, I'll explain everything. This is a specific exercise to tone the back part of your arms (triceps muscles). This movement simply consists of leaning with the palms of your hands on the edge of your office chair, with your legs stretched and the roof resting only on your hands and heels. It is necessary to perform a bending/spreading of your elbows, so that your legs are at 45 degrees (when the elbow is bent) and then at 90 degrees (when the elbow is stretched). The more outwardly oriented your elbows, the easier this exercise will be.
To complete these beautiful, totally toned arms, I suggest you enhance your routine with an exercise to strengthen yourshoulders (no panic, they will not triple in volume in a week). How to do this? On your chair, your back straight, and you start an imitation of Corcovado (for the non expert, arms stretched at shoulder height, which gives you a T appearance). The movement consists in maintaining the position, keeping the hands at shoulder height throughout the exercise. There are two stages, during the first one you must put your palm to the ground. During the second you need to put your palm to the sky. Ideally, it should work in minutes of contraction, 1 min per palm orientation. If the exercise is too easy, Boogie advises you to add very small quick circles to do while keeping your arms straight. This will stimulate your shoulders even more.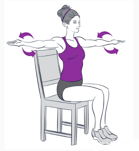 Beautiful thighs and buttocks well trawled
In the starting position seated on the edge of your chair, knees in a 90° angle (Be careful, the knee must not exceed the tip of your little feet) lift yourself up by leaning on all your feet (your heels must be solid). Make sure your buttocks are tight when in the high position. Block 2 sec then bend your legs again and start again ad vitam eternam. Be careful to keep your back straight (maybe even a little arched) and the abdominal strap sheathed throughout the movement. This exercise is none other than the squat movement found in weight training, crossfit and other activities including sweat, happiness and pain. For the more adventurous among you, a full backpack will allow you to increase the load on your quadriceps and buttocks.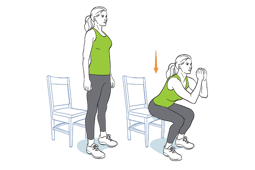 You now have all the information you need to sculpt your body in your workplace, all you need to do is to put it in place. Regarding the organization of this routine, I advise you to do the following:
Calves: 4 sets of 20 reps (About a minute rest between each set if you do it all at once)
Abs: 5 sets of 30s of core training
Triceps chair: 4 sets of 15 reps
Corcovado: 3 sets of 2 min
Squat: 5 sets of 20 reps

Of course this routine is only an indication. Feel free to adapt by adjusting the number of repetitions if you find that Boogie thinks you are a knee slacker or a gladiator. If you liked this, you can find a routine with equipment right here :