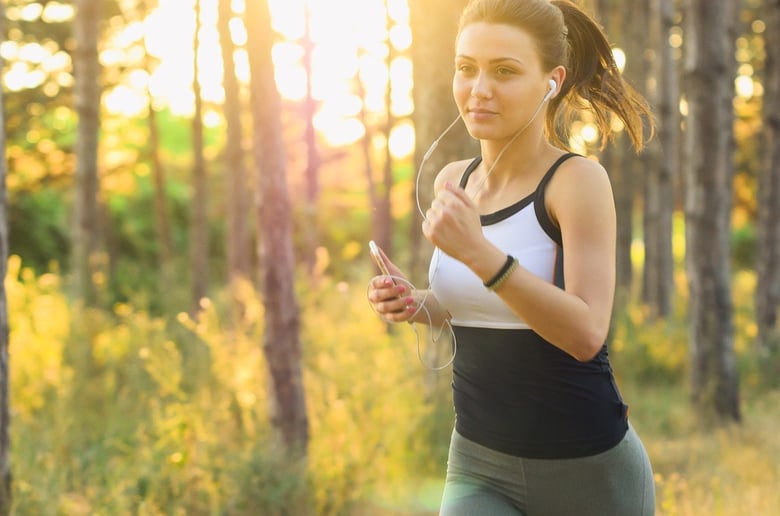 We're plugging in microphones and amplifiers again for this new edition. However, there is no question of you headbanging frantically (pleonasm) on your favourite running track, you would lose your composure and breath prematurely...
AC/DC fans will be disappointed, let's say it from the start: phlegm as much as possible, a moderate tempo, an energy purged of excess that doesn't cut into the necessary bouncing niaque, two-legged binary, lots of binary, such are the ingredients of a good rock playlist.
Total duration of the playlist: at least one hour.
Pink Floyd - Echoes, 1rst part (7'00'')

Don't worry, the series of beeps you hear in the first few seconds is not intended to give you a Luc Leger Test. On the contrary, it's the start of your exercise for the day - and what better way to start than with Rick Wright's keyboard? You clear the air and make some easing movements on the gradual arrival of the music, the drums only coming in at the end of the first two minutes. Even when the whole band joins in, the tempo remains slow, giving you time to settle into your run as you trot along.
The Clash - London calling (3'20'')

We haven't crossed the Atlantic yet, but a much more massive boundary has been crossed: the one that separates progressive rock from punk rock. Thrown in, you get a bit of a kick - including a few tempo points, but not just that.
In case of sunny jogging: Steppenwolf - The pusher (6'00")

This time we cross the ocean to find ourselves in the middle of Easy rider. From its soundtrack and Steppenwolf, we willingly give up Born to be wild to the "Road 66" playlist, since our preference goes to the twilight-nonchalant The pusher; clearly more favourable to calm after the Clash's passage.

OR in case of rainy jogging: The Doors - Riders on the storm (7'00'')

Rainy jogging, happy jogging. For the atmosphere, above all, more than the rhythm.
Creedence Clearwater Revival - Born on the Bayou (5'15'')

One of the biggest hits of "CCR", not as hard hitting as Proud Mary, more suitable for cross-countryers. A magnificent hydrofoil cruise under the Everglades sun, if that doesn't get you going...
David Bowie - Starman (4'15'')

England again. Bowie. Classy. What else?
Led Zeppelin - Trampled under foot (5'35'')

An atypical composition from the quartet with the big balloon, used to more complex and less repetitive structures. It shows that, with talent, it's possible to build a song on a unique, mechanical and perpetual riff without necessarily turning it into a catchphrase. Pan, Franz Ferdinand.
Brian Jonestown Massacre - Straight up and down (4'35'')
Other tracks by Anton Newcombe's band could have been suitable for this selection, such as those by their best enemies the Dandy Warhols, who frolic in the wonderful world of psychedelic rock. This homogeneous style, both soaring and often rhythmically regular, lends itself perfectly to your present hobby, and if it is to your taste you can certainly make an exclusive running playlist out of it.


NB #1: The documentary Dig! which shows the life of these two bands over several years is highly recommended. It will bring you closer to one of humanity's greatest mysteries, namely how Newcombe, a totally uncontrollable and decadent character (yes, even on a rock scale) can still be alive at the time of publication.
NB #2: Soundtrack still (see above), Scorsese still (see episode 1), Straight up and down is used in the credits of the series Boardwalk Empire, also highly recommended.
The Black Keys - Girl is on my mind (3'30'')
A duo that loves American cars (El Camino) and airships with German names. Everything is connected.
Blue Öyster Cult - O.D.'d on life itself (4'50'')
A decent track from a great album by an essential band. Less exposed than the Led Zep' discography, we therefore point out this Tyranny and Mutation to you for after your shower in integral listening. And, no, you're not dreaming, this band is called the cult of the blue oyster, esotericism is good in the 70s.
The Who - Won't get fooled again (8'35'')
Eight. Minutes. And a half. Without resorting to progressive rock. Gentlemen, bravo.
Grand Funk Railroad - Rock n'roll soul OU We're an american band OU Walk like a man (3'30'' à 4'00'')
A nice piece of festive rock from a lively power trio. Also listen to their Stones cover, Gimme Shelter.
No runaway finish : Lynyrd Skynyrd - Free bird WITHOUT the guitar solo(4'40'')
A nice southern ballad to slow down and finish gently.


OR Final with moderate runaway : Black Sabbath - Paranoid (3'00")

Wherever Ozzy Osbourne goes, the crazy rate goes up. Not just madness, mind you.


OR Final with runaway surhumain : Lynyrd S

The calm before the storm, then the accelerando goes for the solo, irresistible, monumental, legendary. Interminable too, four minutes of guitar solo is starting to be a great rush, if you can hold it together, congratulations to you. Above the Luc Léger test, the free bird test.