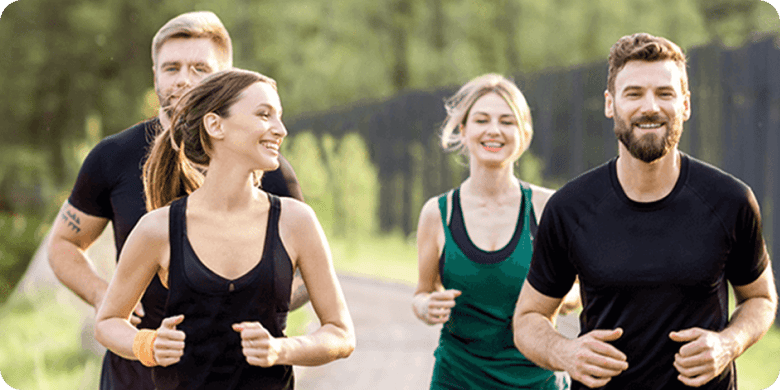 Participating in a

race

allows you to set a

short-term objective

and

keep motivated

up to the D-day. No matter how difficult the race is, once you cross the finish line, you always come out a

winner

. Many run with

friends

or

family

already, but more and more runners are sharing these moments with coworkers. If you still have doubts, here are

5 good reasons to run a race with your coworkers.
Training with your coworkers
If you have already participated in a race, you know that any runner must develop an outstanding sense of organization to be able to reconcile professional and sporting life.
It is not always easy to arrange your schedule according to your training program, but running a race with colleagues allows you to coordinate training sessions and motivate each other. Companies also tend to be more flexible when several employees train together and even facilitate the task by encouraging exercise over working time. You will have no more excuses and you will feel less guilty about taking time for your training if you are joined by your work team.
Jean-Philippe, who participated in the Deloitte Derby with his coworkers, testifies: "The values of sport are reinforced from the moment you are no longer alone. The idea is really that the whole team is improving, especially during the preparation but also during the event".
Bringing together coworkers from all walks of life
It is common knowledge that sports are an awesome way to meet new people. In the workplace, it also helps to break down hierarchical barriers and bring together employees from different departments of the company. Once you put on your sneakers, there's no more CEOs, accountants or interns! Simply running enthusiasts who train for a common goal. During training, no time to discuss the next meeting. Rather, it is a time to get to know your coworkers better on a personal level. This strengthens bonds, team spirit and above all mutual respect.
Have the company sponsor your race
Business leaders are increasingly recognizing the value of team sport to cement work teams. While in the past, team sports such as football, rugby or basketball were favored, more and more companies are recognizing the benefits of running to strengthen team spirit and are choosing to sponsor races. The bib with the name and logo of the company is therefore offered, which given the increasing prices of race is not insignificant. Some companies even decide to provide coaches to prepare their runners.
Efficient team building
We can never say it enough, running is an individual sport that is meant to be shared. It is a real pleasure to be able to share this passion with coworkers with whom you spend most of your time. Beyond the physical aspect, the race has a real team building power, from the beginning of the preparation to the D-day! Crossing the finish line is a high point that creates lasting bonds. Some companies that sponsor their employees even choose to invest in a tent in the 'company village' to encourage exchanges after the race and make this moment of cohesion last.
Jean-Philippe says: "Sharing an event like this with your team strengthens everyday ties. We have shared challenges together so we are closer and it helps to improve our interactions at work. Since the derby, we have participates in other events together, at our own initiative. We were in a good sports dynamic and we organized other events. »
Hormonal benefits of running with your colleagues
Oxytocin is a hormone involved in collaborative running. Unlike other hormones and neurotransmitters, oxytocin is not secreted during an autonomous sporting activity. Indeed, it is produced during positive social relationships, such as: a hug, compliments received or given, when we make or receive a gift, when we share a pleasant moment with our coworkers. In the professional world, the production of oxytocin, linked to the practice of sport among coworkers, will create attachment among colleagues, empathy and a need to share. Oxytocin creates in us a sense of intimacy and trust that in turn facilitates social interactions and behaviors of an altruistic or cooperative nature.
To keep motivation high during the winter, there's nothing like setting a goal in the spring, which brings back the race season. It's time to share this article with your coworkers and sign up for a race to test all these benefits.